As camping season and tailgating season converge, we're bringing you five of our favorite summer tailgating and RV camping recipes. Whether you're celebrating the Fourth of July or cheering on your favorite football team to another victory, these recipes are sure to impress your friends and family!
Simple Meatball Sliders
This tailgating recipe from Homemade Interest couldn't be any easier, and each pan serves up to 12 people! Prepare them in the comfort of your RV kitchen or make some adjustments to cook on an outdoor grill. Regardless of how you prepare them, this simple recipe is sure to be a crowd-pleaser!
Image Source: homemadeinterest.com
DIY Chicken & Waffle Sliders
Whether you're parked at an RV Campground or tailgating at your favorite college football stadium, Food, Folks and Fun's DIY Chicken & Waffle Sliders take a decadent southern favorite and scale it down for an easy but delicious tailgating recipe.
Image Source: foodfolksandfun.net
Slow Cooker Queso Dip
A staple of modern tailgating parties, Queso Dip provides the perfect complement to tortilla chips, tacos, burritos and more! We love this recipe from Little Spice Jar because you can make it with five ingredients and a crockpot, which makes it especially convenient for RV camping and tailgating.
Image Source: littlespicejar.com
Campfire Cones
You can't go wrong with a classic s'more, but this Campfire Cone recipe from Hip2Save takes a childhood favorite to the next level. The best part is, you can customize your cone with your favorite ingredients. Add marshmallows, candy, fruit or whatever else you think would taste great in a waffle cone, then wrap with foil and heat over a campfire or grill.
Image Source: hip2save.com
Cake Batter Blondies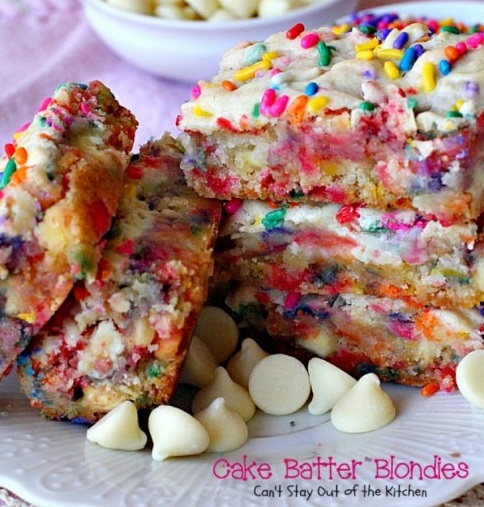 Hosting a tailgate party is a great way to introduce your family and friends to the RV lifestyle, and these Cake Batter Blondies from Can't Stay Out of the Kitchen are a great make-ahead treat for football fans with a sweet tooth.
Image Source: cantstayoutofthekitchen.com
At Lazydays, we have everything you need to make your tailgating dreams a reality, including an array of RV camping recipes. Choose from our tailgate-friendly RV rentals in Tampa, Tucson, Denver and Northern Colorado and round up your friends for a tailgating party you'll never forget. In the meantime, keep up-to-date with RV news, tips, sweepstakes and road trip ideas on our RV lifestyle blog.